Happy 2012 to everyone!!
So, what's the best way to celebrate pretty much anything that happens in life? Why, ordering more wax, of course! I mean, seriously, with Victoria's Wicky Wicky Wax Sale offer of 15% off of all orders placed between 8:00 a.m. January 1st to 8:00 a.m. January 3rd - who could resist? (Well, my husband would have no problem resisting, but I won't dwell on that!) Not this girl, though! :) At 3:00 a.m. on January 3rd, I was gripped with the need to order more scent shots. I'm down to about 60 -- a frighteningly low amount, I know. ;) So, without further ado, here's my whopping list of scent shots from my sale order:
"Apple Raspberry Crumble"
"Black Raspberry Vanilla"
"Raspberry Peach Cobbler"
"Strawberries & Champagne"
And, the one lone candle in my order:
"Strawberry Danish"
in the Red Polka Dot Designer Bowl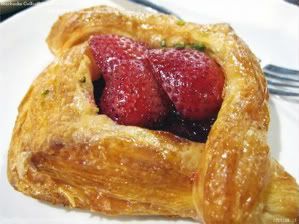 Mmmm
, Strawberry Danish...
Who knew that candle collecting would be so problematic to losing weight?!? :) As soon as I warmed my scent shot of
"Strawberry Danish"
, I knew that it would be a candle order in my next purchase. Rich strawberries (much like a sweet strawberry jam) mixed with a buttery, and slightly salty, pastry dough smell. This scent is such a wonderful blend of all the notes - it's just delicious!
I'm excited to continue to try all of Victoria's cobbler scents (
yumm
-o!), as well as try some of the board members' favorite scents. And, this is the first time that I've tried a Polka Dot Designer Bowl, so I'm anxious to see that as well! They look super adorable.
It's so funny that the stickers that the
CBV
gang affix to your package says "Relax With Wax," when that is the opposite feeling that I have both when I place my order, and when it arrives on my front porch. I behave more like a hyperactive cheerleader who's had about ten cups of coffee! :D
I'm curious to find out if you ordered during Victoria's Wicky Wicky Wax sale, so please feel free to vote in the poll to let me know. Also, feel free to leave a message telling me what you ordered, and/or what you are most excited about getting in your sale order package. In the meantime, please join me in trying to relax while waiting for that wax (it's a lot easier than it seems, isn't it?) :)