Tally ho, onto the top 3! :)
(3)
Without a doubt, Victoria's candles have the best scent throw of any candles available.
I've already described how wonderfully accurate
CBV
scents are, but (as we've all learned the hard way) it doesn't matter how good a candle smells when you purchase it, if the candle's scent does not carry or linger in your home when you burn it. In fact, the frustration of finding a candle that I liked in a store - that had virtually no scent once I lit it in my home, was pretty significant before I found
CBV
. It was like being on a treasure hunt, where there seemed to be no treasure that could be found. Like going on countless dates and knowing that you'd never meet your right match eventually. Like spreading the peanut butter on one slice of bread, only to find out that they had suddenly stopped making all types of jelly... Well, you get the point - I was peeved! I don't want to think about how much money I spent on the elusive candle that would smell good both at the store and in my home.
In fact, I thought there was something wrong with my nose at one point. Surely all of these candles couldn't be "scent duds" - it had to be me and my faulty sense of smell. And then, videos on
youtube
started appearing that gave me hope. There were other people out there who couldn't smell their candles either! I remember an absolutely charming lady, who was refreshingly frank in her review of a well-known candle company's latest products for the holidays. She said that she felt that their candles would be nice to keep in case you had a power
outage
- because they had such a low scent throw that their almost non-
existent
fragrances would hardly mingle with one another at all.
And then,
youtube
didn't just convince me that I wasn't suffering from a
sub par
sniffer - it also introduced me to Candles By Victoria: A candle company who's candles actually scented your home with long-lasting and far-reaching fragrances. (This is super weird, because we have just been discussing how all of us on the
CBV
message board came to know about Victoria). The point is, I was lucky enough to find a solution to one of my frustrations about being a homemaker, and I'll always feel grateful for finding
CBV
to help solve the mystery of the non-smelling candles! :)
I can't write a post about Candles By Victoria's wonderful scent throw without posting a picture of one of my best scent throwing candles from Victoria...my
lovely "Home Sweet Home" Country Kettle candle in burgundy marble. This wonderful three-wick candle pours the warm cinnamon doughy fragrance into my house like

nobody's

business.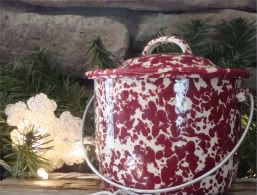 I feel like a proud mama with her brag book,

hehe

...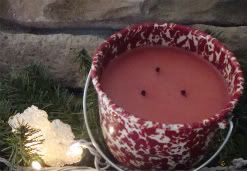 Thanks for reading about my Reason #3, and I'll be back to write about my Reason #2 tomorrow. In the meantime, I'm going to go and make a peanut butter & jelly sandwich. For some reason, I have a real craving for one...