Yep, I'm back in the saddle again today... Westward ho to #8!
(8) Victoria's candles are just a better value than other candles.
And yes, I do feel like I just paraphrased one of the oldest commercial lines there is! But, I've done the math, and weighed what I got for my money, and there really isn't any comparison. Let's take a closer look, shall we?
Okay, for my purposes here, I'm only going to take into consideration other candle companies that get some
youtube
mentions -- not the discount store variety. I don't want to offend anyone, but the discount store candles just can't be considered real candles. I've tried enough of them to know in the past - despite all attempts (even with lovely Paula
Deen's
face on the labels - and I simply adore me some Paula
Deen
!) those candles might as well be unscented blocks of wax for the amount of scent they have in them (but that's a reason for another day...hint, hint!). So, they won't be included in the value discussion. You might only pay $5.00 for one of those...erm...beauties...but you won't even get $5.00 worth of candle in return. And that's not taking into consideration the amount of gas that it takes to get to the overcrowded parking lot, and the annoyingly long check-out lines... Okay, enough about that! Back to the discussion at hand!
If you just look at pricing,
CBV
blows the competition away. Let's say I wanted to purchase a large candle of my favorite fragrance. Comparing the companies, here's what I find:
CBV
-24 ounce Mustard Jar-$18.50
B&
BW-
14.5 ounce 3-Wick Candle-$19.50
YC-
22 ounce Large Jar Candle-$25.99
So, I could purchase 9.5 ounces less wax for $1.00 more from "Company B&
BW
", or 2 ounces less wax for $7.49 more from "Company
YC
". Yeah, I don't think so. Even with the shipping that Victoria has to charge to send your order to you, the difference in the amount of product for the money more than makes up for the shipping cost. And, I'm totally biting my tongue to not go into how much better quality Victoria's candles are (save it for another day, Beth!)... I just never realized how connected my reasons for shopping with Victoria are until now!
I could go into a price comparison with each candle size, but you get my point by now I'm sure. I'm no different than anyone else with my purchases, I want the most "bang for my buck", and that's definitely what I get from
CBV
!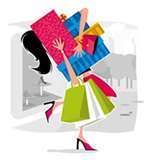 Thanks for reading about Reason #8, and I hope that you pop back in tomorrow for lucky Reason #7! In the meantime, you can think of some things that you can do with all of the money that your saving by purchasing your candles from CBV... Looking outside my window today, I think I'll pay one of the neighborhood kids to shovel my driveway instead of doing it myself! :)