Okay, here is where it gets a little tricky...like I said, I never knew how intertwined my reasons were until doing this list!
(5)
I really, really miss my son being in elementary school. Not because I want him to remain small forever (I really am loving every age, and yes, I know sounds super cliche!). But, as crazy as it may sound, I miss walking into a place where you never have to guess what time of the year it is. No matter what the season, the walls were always adorned with hearts, Easter eggs, pumpkins, or Christmas trees to set a festive mood. You could say the same about stores, for a little while, but they are always jumping the gun to the next season, aren't they? It's always bizarre to see the
Halloween
masks next to the Christmas angels - but it's the nature of the business.
That's why I so love that so many things that Victoria does is so festive and fun-loving - bringing that
celebratory feeling back to my seasons
. Boy, is my blog appropriately named, or what? :D I'll explain a little more...
The easiest example that I can give you is tuning into Victoria's
youtube
channel. I love seeing the
CBV
gang as they enjoy summer vacations, hand out candy to hundreds of trick-or-
treaters
at Halloween, and the
Candleman
putting up his annual Christmas decorations. They are just a fun-loving group - and if you tune in to their videos, you'll adore them. If you haven't already, here is the link to their channel - it will put a smile on your face:
The next bit of festivity that I enjoy is on Victoria's message board, the Pouring Pot. Even though I do enjoy that Victoria currently has it decorated with adorable snowmen for the winter season, I'm going to tell you about the fun-filled games that are almost always there to give you a fun little boost to your day.
Whether you elect to play the countdown game, candle bingo, chain reaction, or the movie game, it's always a fun time when you log on to the Pouring Pot. Not to mention being able to nominate a fellow board member for Member the of the Month, share photos of your
furbabies
, try a new recipe from another member, or share with everyone what scent you are burning on that day. It simply brightens my day to visit Victoria's website, and these wonderful people (but, that is a reason for another day! See what I mean about it being tricky?). What I'm trying to focus on today is Victoria's foresight to not only create a message board that
could've
been solely focused on her products - but to create a place for people to mingle, to get to know her and her family, and other members. Basically Victoria created a little party place on the web. I'm so happy to have found this little slice of heaven. You should check it out as well, you'll be so happy that you joined in on the fun!:
And, finally, the last festive thing that I'd like to mention is the monthly newsletter and new scents that Victoria announces every month. It's not unusual for the scents to be connected to the season (I loved last October's
"Monster Mash"
,
"Bite Me"
, and
"Witches Brew"
scents!), and everyone waits with baited breath to hear what Victoria has come up with that month. I know that you may say that every candle company tends to do that, so why does this distinguish
CBV
from all of the rest? Well, it's the manner in which Victoria makes it into a mini-celebration, first with the announcement of the scents in her newsletter, then with choosing customers to review the new scents via
youtube
- so that
everyone's
anticipatory delight is at it's best! It's just so fun knowing that there is something new and exciting to look forward to with each month, and that
CBV
customers get to play a role in the excitement! :)
There will be other reasons that I think of, I'm sure, as to why Victoria's festive efforts brighten my day, but I'm sure that you get the idea by now. I love that she shares this element of fun with all of her customers, and I'll bet that you will too. :)
Thanks for reading up on #5, and I'll hopefully see you back for #4 tomorrow. In the meantime, I'd like to give a shout-out to my buddy Burke, who is the one and only person that I know that says his favorite holiday is April Fool's Day. But, if you knew Burke, it wouldn't surprise you... :)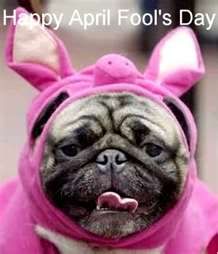 Boy, I guess I'm no better than Wal-Mart with an April Fool's Day blog photo even before Valentine's Day...