My goodness, a
slight delay
? Bwhahahaha! Let's get on with the show, shall we (finally)??!
(2)
Victoria's "candle family" is the most wonderful group of people you'll ever have the privilege of meeting and spending time with.
And, by "candle family", I mean her actual relatives, employees, as well as her online community. Okay, I know, you're probably thinking that I have named something that "technically" doesn't have anything to do with Victoria's
products themselves
as my runner up to my top reason for buying from CBV
.
How can this be? Well, because these people have come to mean a lot to me, and keep me coming back to Victoria's exceptional products. The Pouring Pot community knows a lot about Victoria's scents, but they also know how to be a fantastic support system for one another - and that is a priceless commodity to me.
When I made my first order with CBV, I didn't know much about Victoria's scents - so I chose scents that just "sounded good" to me. Granted, that is when Victoria was only offering around 700 scents rather than 747, so why I didn't have more clarity as to what to purchase is a mystery... :) Anyway, the majority of the scents that I bought didn't agree with my nose. I'm always careful to say that the scent
didn't agree with my nose,
because Victoria's candles are always wonderful quality - but not all scents are for everyone. So, after I purchased that first order, and found out that the scents weren't good choices for me, I may have thought that CBV wasn't for me. But, (and I'm so glad that I did this) I joined the Pouring Pot message board shortly after my first order arrived, and received suggestions and descriptions of scents that ended up being favorites of mine.
More than likely, you'll meet people that have similar "noses" to your own, and that will give you a number of scents to try that may not have been on your radar. You can see what people are burning every day, and what they think about the scents, and you can also look at many written reviews in a special thread. Round Robins are organized so that if you do order scents that don't agree with your nose, you can swap them with other scents that people found didn't agree with their noses. The message board just provides endless support and fun for your wax addiction - and it keeps me coming back. Before this, if I accidentally bumped into someone while shopping in a candle shop, I considered that the extent of my socializing with regards to candles!
I know that we've all heard the saying, "It takes a village to raise a child", and I think that this same thought applies to being a CBV customer. "It takes a village to take on Victoria's ginormous scent selection"! My list of scents that I want to try, not to mention the Create A Scent suggestions that have been listed on the message board, keeps growing and growing. If you think about it, it's the same situation as when you go shopping with friends, versus shopping by yourself. Most of the time, when I'm with friends, it's more enjoyable. We divide up in a particular shop, and more than likely, we find things in different areas of the store that we may not have found ourselves. More pairs of eyes the better, right? In the case of CBV, the more noses the better - and it's like shopping with a large group of the warmest friends you can have.
Beyond being one of the nicest groups of enablers on the web, the Pouring Pot is a network of people who care about one another. You can go to the message boards to receive support if you are going through a rough time, or receive congratulations if you have something to celebrate - and so much more. I've simply never developed such a bond with an online group like this before, nor do I believe I can find another group to compare to them - and luckily I don't need to!
I have to share a photo of my first CBV love before I wrap this post up - Amish Quilt - which was in that first order that I mentioned. Isn't it cute? :) A lovely mix of spicy notes that just makes the home smell so cozy in my opinion.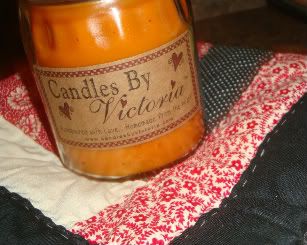 Thanks for reading my long overdue Reason #2 for Choosing Candles By Victoria, and I hope that you will check back for my #1 Reason. In the meantime, if you haven't checked out the Pouring Pot message board ~ what are you waiting for? You'll be so happy that you joined the fun!
http://cbvictoria.proboards.com/index.cgi
?