From the very start of my interest in Candles By Victoria, I joined the
CBV
message board entitled "The Pouring Pot". Little did I know how much I would come to love the members there, or how much more enjoyable sniffing my way through over 700 scents would become when that endeavor is shared among friends. One of the wonderful members there recently commented that she didn't feel that she was a "seasonal burner" ~ or, in other words, she didn't base her choice of fragrances upon the season. That's when it hit me - I'm a seasonal burner through and through. It's this kind of realization that makes me love the message board - you find out these things about yourself while enjoying some chit-chat and laughter. So, I now know why I felt almost obsessed with finding the right yuletide scents to burn throughout this holiday season. I ordered almost every Christmas scent shot that Victoria offered, and sniffed through those little hunks of wax like crazy. Here are some of my early choices: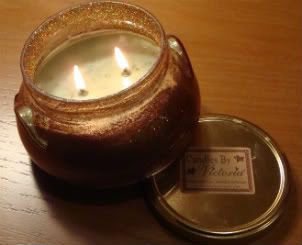 "Christmas Kitchen" in the Lime Green & Red Glitter 22 ounce Tureen Candle
"Christmas Kitchen" is described as the combination of Cinnamon, Orange, and Pumpkin notes ~ and I believe the noticeable Orange scent is what attracted me to this fragrance. It has a slightly spicy element to it, which is another reason that I'm a fan. The Cinnamon and Pumpkin are blended very well, so those notes don't seem as distinguishable to my nose - but that blend really works nicely with this scent.
"Christmas Memories" in three 8 ounce Jelly Jar Candles
I loved displaying Candles By Victoria candles on my mantle this year. The scent "Christmas Memories" was another early favorite of mine. Considering it's description as a Candles By Victoria house blend of
Sugared
Spruce, Cranberry and Spiced Oranges, I immediately thought that the Orange scent was the common ingredient that seemed to attract my nose. I find that this scent is a "light thrower", so to have three 8 ounce Jelly Jar Candles of it in my family room fills it with just the right amount of scent. Much like "Christmas Kitchen", this fragrance is well-blended, and slightly spicy, making it another great choice for this time of year.
Those were my initial candle purchases from the sea of scent shots that I quickly plowed through, so I'm not sure if they will continue to be favorites in years to come, or if I may revisit some that deserve more attention. Keeping in mind though - knowing Victoria, we won't be at a loss for new scents to try for the holiday season of 2012!
So, what about you? Are you a seasonal burner, or are you burning "Mango Tango" as we speak? What would you consider to be your favorite holiday scents? Please feel free to leave a comment for me, vote in the poll, or both!
Thanks for reading, and I hope to see you back for the next post. In the meantime, have a wonderful holiday season!